LOVING THE JOURNEY WITH…
Pastor John
T-minus 10
We are 10 days away from resuming onsite worship gatherings. If you haven't already been to our Journey website for the latest information regarding our regathering plan, please click here if you are planning on joining us so you can see how you can make the most of our onsite worship experience.
Last week we started talking about some key differences about this onsite restart plan as opposed to our previous attempt in late May. One of the major differences is the worship schedule itself. We will offer two onsite worship gatherings at Apopka at 9:30 and 11:15AM on Sunday morning and one worship service at Lake County at 9:30AM–although Lake County will be ready to shift to two services very quickly if the numbers call for it.
There has been another change I need to communicate, even since last week, regarding our online service offerings. We will be moving our Saturday evening online service to Sunday evening. The time will remain the same at 5PM. Our online worshipers will now get to experience some live elements of worship such as the music and preaching, while still hearing direct communication from our online staff. Several folks have told us that, though they have enjoyed our current format for our online worship services, they do miss seeing and connecting with other worshipers, even if it is digitally. This new format will make that possible.
Another practical reason for this shift is it allows our staff, especially our music and tech teams, to focus on preparing for one worship experience delivered to our congregation in the same format.
For those who have been faithful onsite and/or online participants in our Saturday evening services over the years, let me first just say thank you. Many of you chose to worship on Saturday evening, not because it was most convenient for you, but because you wanted to make room for more guests on Sunday morning. That kind of "putting-others-first" attitude is what helped Journey reach so many new people for Jesus over the last 8 years as we saw onsite attendance consistently growing during that time. Thank you for being willing to give up your seat, literally, for the sake of reaching others. I look forward to you joining us on Sunday morning during our restart as we rebuild our strategies for outreach and mission.
Covid-19 has turned our world upside down and has forced every organization, including the church, to enter a rebuilding phase that none of us saw coming and is unlike any challenge we've ever faced. Over time, we believe we will see more and more folks return to participating in person, but that will most likely take some time. Almost all believe there will be a "new normal" for large-scale, indoor public gatherings on the other side of this current pandemic even though nobody seems to know for certain what that will look like. I sure don't.
In what I call the "next normal"–this awkward interim phase between what was and what is to come–we are doing whatever we can to stay connected with both our growing online campus as well as resuming as many meaningful in-person ministry environments at our physical locations as we can with the limitations we have to work around.
For all Journey members and guests who have stuck with us over these wild past six months, thank you for your patience, your understanding, your financial support, your encouraging words, your constructive critiques, your willingness to endure hardship, your flexible attitudes, and most of all for your prayers for wisdom and courage for our leadership.
We are steadily and purposefully moving forward because that's the only direction available to us. Yesterday died last night. The future is the only thing ahead of us and each day has enough trouble of its own. BUT GOD is for us, with us and in us–and greater is He that is in us than anything that is in this fallen, unpredictable and unsatisfying world.
Loving the Journey,
Pastor John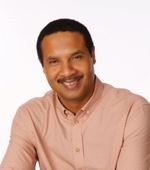 P.S. This week we wrap up the Why Talk About Race series by hearing from Pastor Roderick Zak. Pastor Zak leads Rejoice In The Lord Ministries in Central Florida. He is a community leader as well as pastor and brings a healing, helpful, hopeful Kingdom voice in conversations about race. Join us this weekend online.