July 23, 2020
Journey With John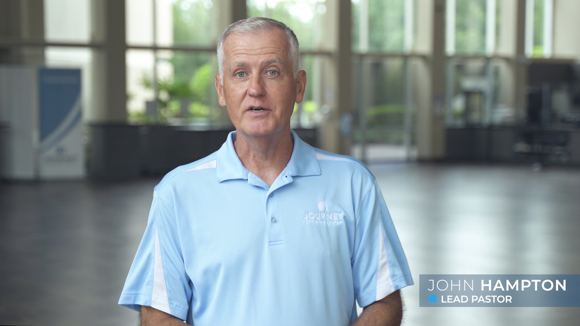 A book I read a couple of years ago was titled, "Didn't See It Coming." I think we can all safely say that is an accurate description of the first six months of 2020, wouldn't you agree? What a wild ride it has been so far! We have experienced what I call the "holy hokey-pokey." (Say these words to the Hokey-Pokey tune) You experience church in person-you experience it online-you experience church in person again-and then you go back online. Didn't see that coming!
And yet as I share a bit of a financial update with you through the first six months of 2020, there are some surprisingly positive things that I certainly didn't see coming, especially when we entered the first period of pausing in-person gatherings.
For example, our total income—which is a combination of offerings and rental income from various sources–through the first six months of 2019 was $2,267,095. That amount included a large kick-off offering for our Say Yes initiative. However, the income for the first six months of 2020 was $2,435,317–an actual INCREASE of 7.4% over last years income during the same period—and that's in the middle of a global pandemic! Our actual income has exceeded our actual expenses during January through June by $443,533. Didn't see that coming!
You may or may not have been aware that we applied and received the Payroll Protection Program Federal loan for small businesses that was offered early on during the pandemic. Those funds are in ADDITION to the income numbers reported above. We have already met the requirements for the loan to be forgiven and it appears that we will not need to repay any of the funds received.Didn't see that coming!
Not knowing how we would be impacted financially by the pandemic, we prepared for the worst. Early on we reduced all staff salaries by 10% and paused some employee benefits. We also cut our support to all Journey mission partners in half. I wrote about that in the first quarter financial report. But today, I am happy to say that we have been able to resume and restore all employee pay and benefits to previous compensation levels as well as resuming all monthly mission support to previous levels—all in less than two months' time! Didn't see that coming!
We have gone from seeing a weekly average of 48% online giving to approximately 78% online giving almost overnight–and our mailed-in offerings have also probably more than doubled during this time. Didn't see that coming!
And this is just a brief overview of our current financial health. We have seen 35 baptisms during the first six months of 2020. I know that is significantly down from previous years, but again, we haven't been meeting in our building for over half of that time. We have also provided food for a total of 890 households during our monthly Food For Life distribution and a supplemental weekly food distribution program that ran from mid-May through the end of June. Between those two food programs we have given away 1,577 bags and boxes of groceries during the first six months of 2020. Didn't see that coming!
During this period of not meeting for in-person gatherings, we have spent more time, energy and investment in developing our online campus. Even after we can once again safely resume onsite gatherings, it is my belief that our online ministry will still be the primary way most of our Journey congregation will connect with our ministry in the foreseeable future.
In fact, pre-pandemic we were seeing an average of 363 digital devices connect with us during our weekend worship services. Since the pandemic, we have seen an average of 1,746 devices connect with us on the weekend. We're not currently tracking the number of actual viewers during the week, but if we did, the numbers for digital discipleship engagement would far exceed those. Didn't see that coming!
We have also seen 13 new Life Groups formed since the start of quarantine measures during the pandemic. We also have continued to provide online support for ministries such as Griefshare and Journey To Christian Recovery.
I tell you all this to say, I didn't see ANY of the above coming as we started 2020—and thank God I didn't! I probably would have made a whole host of decisions that would not have been helpful, most likely fearful and probably harmful.
But God saw it all coming! And He knew exactly what we needed for such a time as this.
I don't know what the rest of 2020 holds, but from what I can see, it's going to continue to be an incredibly wild ride into uncharted territory for all of us. Some believe the fall and winter will be worse than the spring and summer in terms of the impact of the coronavirus economically, physically and emotionally. I would be naive to think that there will not be hard decisions still to be made in the turbulent weeks ahead. It's hard to get reliable information on much of anything right now.
But here's what I do know: whatever the next six months brings; I trust the Lord with all my heart. I am not leaning on my own understanding, but in all my ways, I seek to acknowledge Him knowing that He will direct my paths. And I know that many of you are doing the same thing.
Two final thoughts: If you made a Say Yes pledge last year you will see on your second quarter giving statement where you stand with regard to what was committed and what has been given so far. That is provided simply as an update to guide your future giving goals. Please send an email to business@journeychristian.com to request your statement.
The most convenient and consistent way to give is to click here to set up an online giving account if you don't have one already. You can make a one-time gift or set up recurring gifts at your discretion.
Another way to give is by mailing in your check. You can send it to Journey Christian Church, 1965 S. Orange Blossom Trail, Apopka, FL 32703.
Secondly, in light of the economic uncertainties many have already experienced or may yet experience, we will be EXTENDING the giving period for Say Yes commitments through the end of 2021. The original giving period was scheduled from March 31, 2019-March 31, 2021. Hopefully this extended giving period will allow more of us to finish strong what we started last year, by saying "YES!" to freedom, family and the future.
Please know that I so appreciate you and wouldn't want to be anywhere else with anyone else during these incredibly unpredictable days. God is teaching us much about what it means to really love the journey that none of us saw coming and yet remarkably reveals who He really is more clearly than ever before.
Until we see Him coming, I will always be loving the journey.
Pastor John